Various Artists
Solstice '21
Vinyl LP Catalogue Number: SUBEX00054
Download Catalogue Number: SUBEX00055
General Release Date: 21/06/2021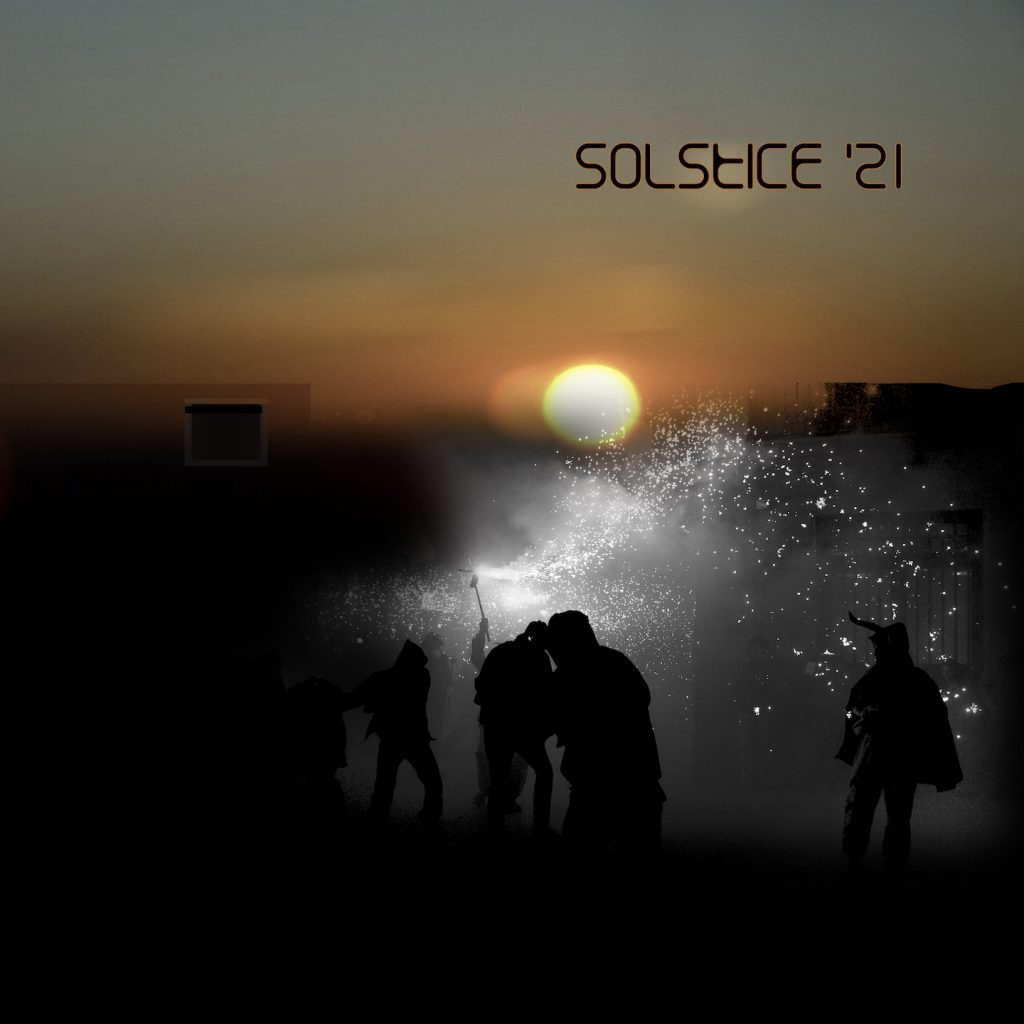 Solstice '21 sees twelve bright lights of independent electronic music mark the coming Summer Solstice.
In the darkest times, a new dawn heralds fresh hope.
So come and join us, as we celebrate the rising summer sun ..
"Light the fires,
Beat the drum,
Go set the watch,
Midsummer has come"
Guild of Midsummer Men
___________________
The twelve:
Rotator - This is the first outing under this moniker from Justin Owen, also known under the alias Licit, as well as being a protagonist in the world of modular synthesis as the man behind the Abstract Data modules;
Letters from Mouse - "Bubbling analogue synthesis from Scotland." This analogue synth maestro and inimitable broadcaster (aka The Magic Window), boasts a string of quality releases, including the recent highly acclaimed album An gàrradh, also on Subexotic;
Cub\cub - "Cub\cub explores the world in-between nostalgia and nihilism, analogue and digital, real and false; creating evocative and mournful musical collages." First discovered on Boards of Canada forum Twoism, Cub\cub's two debut releases with Subexotic demonstrated his considerable talent to mix fascinating texture with beguiling melody. With an astonishing follow-up album coming soon, his rising star feels unstoppable;
Orbury Common - "aural ephemera from the home of the orbs." This mysterious duo from the West of England are blessed with delightful musical cunning; their brilliant debut on Subexotic lifted the lid, and this offering reaffirms exciting times lie ahead;
Onepointwo - "Minimal electronics, abstract radio signals and dystopian soundscapes are proceeded from both digital and analogue sources." A creator of intricate yet powerful collage, with finely wrought motifs that repeat and build to create a shimmering psychedelic impact. This is Onepointwo's glorious trademark. Spell-binding releases already exist on Woodford Halse, Poeta Negra, Lotus, as well as an imminent powerhouse album forthcoming on Subexotic;
Giants of Discovery - "Experimental electronica with the occasional noisy guitar thrown in." Giants of Discovery's ability to get to grips with the musicality of his subject, has lead to previous exquisite sojourns into realms such as Victorian cosmic horror and Greek mythology, as well as an equally fantastical, towering follow up album on Woodford Halse;
Wonderful Beasts - "A Wonderful collaboration between boycalledcrow and Xqui." Their playful interaction finds ways of crafting acoustic fragments into unexpected
kaleidoscopes of sound. With beguiling debuts on cult label Wormhole World (soon to be followed up by an extraordinary new album on Subexotic), there is a kind of breathless magic about everything they do;
Dogs versus Shadows - Electronic Sound Magazine says "A rare example of gamekeeper turned poacher...a welter of impressive electronica." Lee Pylon's ability to straddle a wealth of uncompromisingly inventive creations, and his broadcasting prowess as the much loved Kites & Pylons, is already the stuff of legend. A multitude of releases across many labels including Subexotic, Woodford Halse, Miracle Pond, Third Kind, Submarine Broadcasting, Sensory Leakage, provide a glittering treasure trove of work;
Counter Silence - A stalwart of Subexotic, Counter Silence's sparkling and wistful musical work very much stands alone in temperament and style. 2020's Pathways EP on Subexotic remains a precious oasis, imbued with a haunting solitude that lives on in the memory;
Transient Visitor - "All music unlocked by Alex Cargill (C.O.I. Central Office of Information) and Martin Jensen (The Home Current)." These two intercontinental maestros (well Sidcup & Luxembourg) boast impressive solo back catalogues across many labels (including Castles in Space, Polytechnic Youth, Woodford Halse). Their newly conceived collaborative Transient Visitor project, brought about the superb TV1 album in 2020 - we can see the sparks fly again in this welcome 2021 return;
Simon Klee - "Natural, Electric, Organic Psychedelic - Sounds, noise and psychedelic beats." Klee's playful alchemy engages the mind and spirit, as witnessed in a flurry of top quality releases in recent times (e.g. Subexotic, ANR, Woodford Halse), and there is a visceral joy in his work that is perfectly placed for a midsummer celebration. Klee also produces a truly excellent mixcast and increasingly essential tape label, both under the guise of Anticipating Nowhere;
Rupert Lally - "Hailing originally from England but now based in Switzerland, Guitarist, Percussionist and Electronic Musician Rupert Lally began his career as a Sound Designer and Composer for Theatre and TV, before launching his solo career in 2005. Since then his releases have blurred the boundaries between electronic and acoustic music." Lally's consistently brilliant work is always a highlight of the electronic music calendar, including recent stellar works across many labels such as Spun Out Of Control, Third Kind, Woodford Halse, and Modern Aviation.
_________________
Mastering by Antony Ryan (RedRedPaw)
Design by Dan Seville (Subexotic)