The Home Current & Peter Wix
Unfortunes
CD Catalogue Number: SUBEX00038
Download Catalogue Number: SUBEX00039
General Release Date: 29/01/2021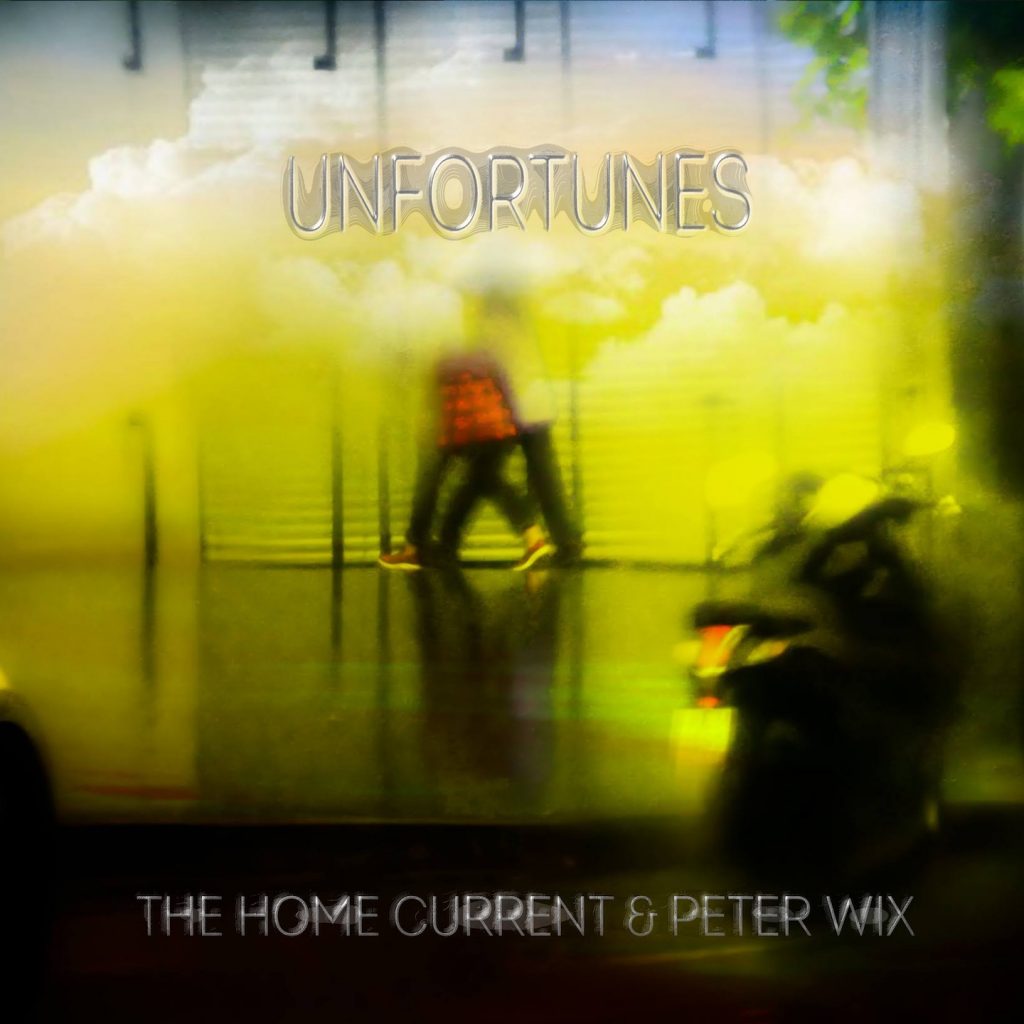 The Home Current teams up with spoken word artist Peter Wix to fuse a sublime powerhouse of an album. Both artists are on top form; Wix's knack of seamlessly travelling through the looking-glass underpins an enthralling, twisted, off-kilter 'billet-doux' to life; The Home Current's pristine, angular electronic score is a wondrous, energetic, suspense-laden masterpiece. Amazing stuff, certainly worthy of some close attention..
______________________________________________________
"I'm normally not a big fan of spoken word music. But I love your voice, and I think it would be fantastic to have you doing a spoken word thing on this track I have, if you're into it."
It was a WhatsApp message from Martin (The Home Current) to Peter. Yes, he was into it.
And around successive midnights over the next six weeks, he got even more into it, as the tracks from Martin flowed and these good friends made enjoyable work of shaping words around music, and melding both into the audio scenes that make up this unusual project of which Unfortunes is the very first issue.
With the first 10-track target reached, neither had any clear idea of quite what they had made, and probably still don't. It came together without any theorising. Something in the connection kept sparking and lighting up the next step. But any deeper reflection on the origins and mechanics of this creative process will surely lead back to the storytelling glow of cinema.
Martin is a lover and collector of film soundtracks, and Peter has long been reminding Martin of the filmic flavour of a wide region of his music and its potential destination as part of films as yet unmade; Peter is a cinephile whose love of watching films takes away much of the little time he has to spend on making his own music. Martin has threatened to kill Peter if he doesn't release more music. Unfortunes is a compromise that will keep Peter alive a little longer.
But both have discovered that this project is not a bridge to new creative breeding grounds, but a beautiful space of its own festooned with the flowers of Martin's years of eclectic listening habits and deejaying, and hedgerowed towards human situations by the actorly framings Peter is able to build around his colourful heterodox musings.
The big surprise in Unfortunes is that it doesn't really have a tradition or benchmark against which to be gauged. The spoken word was the big shaker in medieveal times, but since then the word has been a delight routed and traded mostly in recitals of poetry—often insipidly—and channeled through dramatic art. Despite the many formats that have been created for marketable music since technology made records possible, the spoken performance is rarely mounted against a musical background, and even more rarely on equal terms with the music presented. Examples can be found languishing in miserable or delicious obscurity, but the latter is at the very least where The Home Current's music is aimed. And that might be a perfect place for a new compound to attract more than cursory attention.
Unfortunes continues the experiment of The Home Current's untiring love for music. Martin Jensen is a prolific composer and producer of music, and behind acclaimed releases for labels such as Castles In Space, Polytechnic Youth and Woodford Halse.
As singer and songwriter, Peter Wix formed Jean Paul Special (with Juan Aís) in the 1990s, releasing two albums, Lovely Cardoons (1999) and The Recall Code (2003). More recently, he has worked under different names in different projects, including Continental Film Night (Tinhorn Home Companion Library Vol. 1 – 2007); 30km Inland (Stolen Shore Lines – 2014); and Winter Cabin (tracks on Minute Papillon; Music and Migration; Christmas in Haworth).
Releases January 29, 2021
Music written, arranged and produced by Martin Jensen
Words and voices by Peter Russell Wix
*Voice: Charlotte Wix Navarro
Mastered by Antony Ryan @ RedRedPaw
Photos by Geneviève Cygan
Artwork by Dan Seville (Subexotic Records