Broken Shoulder / Expose Your Eyes
Parts Exchanged
Vinyl Catalogue Number: SUBEX00104
Download Catalogue Number: SUBEX00105
General Release Date: 10/06/2022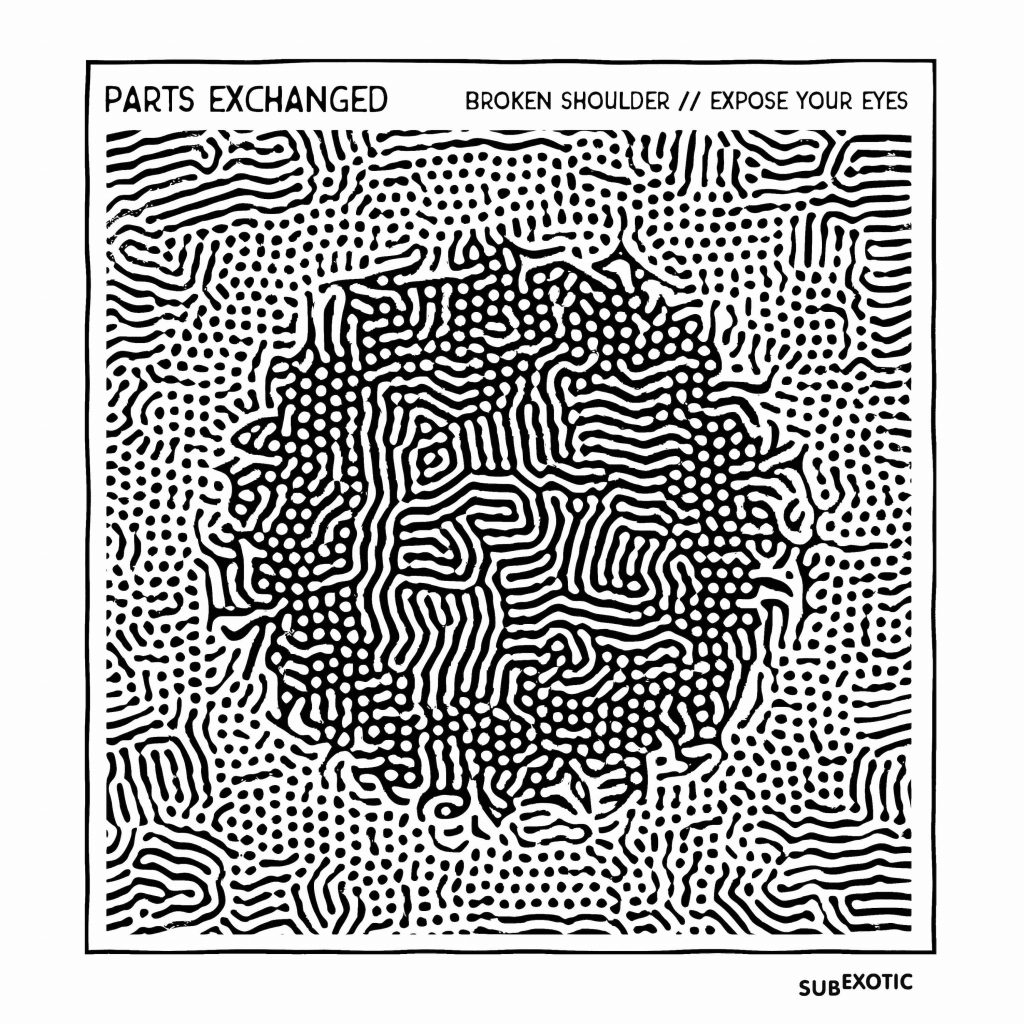 'Parts Exchanged' is a new collaboration between Paul Harrison (Expose Your Eyes) and Neil Debnam (Broken Shoulder).
Both parties are experienced contributors to the 'noise' scene, and describe how they moved towards use of drones, electronics and 'noisier things' over the course of a few years in a search of their own creative language.
Paul says of his past releases:
"I actually started when I was making my own Super 8 films and videos in the 1980s and began to create my own soundtracks. I have been releasing sounds as Expose Your Eyes since the early 1990s (with a couple of other projects before that) - initially inspired and disappointed in equal measure by the 1980s power electronics & noise scenes, my early sounds were generally very noisy but I was trying to do something specifically influenced by psychedelics and, I hoped, a little bit different and less easy to categorise than most other things around in this scene at the time - very soon drones became a part of what I did.."
Based in a tiny flat in Tokyo, Neil has also been releasing music for over a decade, as well as running the bespoke experimental imprint Kirigirisu Recordings kirigirisurecordings.bandcamp.com.
He describes his method as an exercise in building up and stripping back:
"The process has changed a bit since the start when it felt like I was channeling some kind of wordless, beatless and melody-less but still slightly conventional songs from out of nowhere. Looking back I can't really work out how the first release came together like it did. Since then, things have got longer and maybe more oblique. My recording method recently is to do fairly long improvised 'jams' which I record all of and then review and cherry pick the good bits after I've slept on it a bit. Sometimes the bits I thought were great become terrible and sometimes throwaway bits grow into songs. I think I am quite a harsh critic of my own music and am worried about veering into cliche so cut a lot of stuff. I'm using a lot more field recordings as layers in recent recordings as I spent a couple of years doing a field postcards project and now I'm enjoying sliding bits of those in places where they start to sound like things that they aren't."
Neil says of this latest project with Paul:
"It was really interesting to work with someone else on this kind of music for once as my only previous collaborations with others was when I was in bands. It was also a lot of fun to start with a concept and work within those boundaries. I think we decided on a rough length, decided we'd both make drones first and then would add noise or texture to the other person's drones. I think it worked out really well, in that one drone is my usual kind of slow build and then fall and the other is much more like a collage of different parts. I loved dropping really random field recordings over it."
Paul candidly sites an ongoing struggle with depression as a key influence on his work, and one can see this latest work is framed within this poignant context when he relates an urge to escape:
"This new album is a breath of fresh air and hopefully a relaxing space to just 'go somewhere nicer' for a while."
Both contributors attest to a love of mis-using equipment, and thereby thwarting conventional techniques with a more chaotic approach. The resultant events are reviewed and gradually pared down into structures we hear in the final release. As such, 'Parts Exchanged' occupies a paradoxically randomised yet considered space, that sits adroitly balanced between drone, noise and field recordings. Somehow this soundscape oscillates in and out of the listener's perception, and proposes a sense of the profound in the liminal.
'Parts Exchanged' releases on 10th June via digital platforms, as well as being a debut release for the exciting new 'Lathe Cut Solutions' Flexi-disc series on the Subexotic.
releases June 10, 2022
All sounds by Neil Debnam (Broken Shoulder) & Paul Harrison (Expose Your Eyes)
Mastering and design by Dan Seville (Subexotic)
xemporium.bandcamp.com
brokenshoulder.bandcamp.com