Audio Obscura Vs Black Sonar
A Scream From Outer Space
CD Catalogue Number: SUBEX00100
Download Catalogue Number: SUBEX00101
General Release Date: 29/04/2022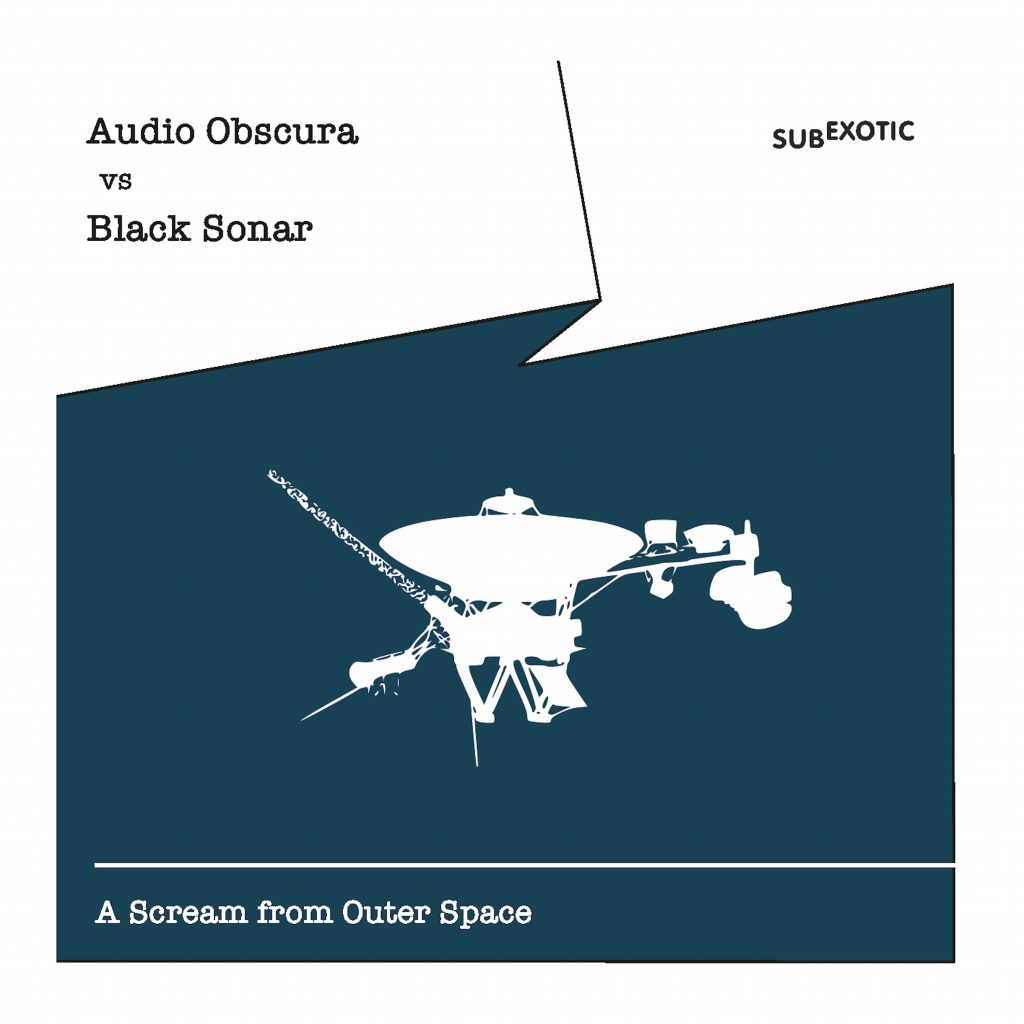 'A Scream From Outer Space' is a pan-European collaborative work that began to take shape over the course of 2 years. Embracing their distinctive musical styles - from the post-rock poise & drive of Alfonso Montagnese & Michael Facchini (Black Sonar), to the off-kilter electronic manipulations of sound recordist Neil Stringfellow (Audio Obscura) - a series of remote correspondence began to evolve into something remarkable.
In one sense, this stands as an intriguing form of psycho-geographical essay on deep space exploration and, in particular, the contextual phenomena surrounding the launch of the Voyager space probes in 1977. However, it is the rich & evocative tapestry of musicality that draws the listener in. As surely as the respective probes continue in their perpetual journey beyond the bounds of our universe, we are left in no doubt this project is an exceptional triumph of time and space.
Talking about the creative process, Neil recalls:
"our collaboration started in 2019, and continued into 2021, and simply involved sending files back and forth without any pressure, and with complete creative freedom. On my part, I was always conscious to leave 'space' in my pieces for the others to add to and flesh out .."
Alfonso & Michael also reflect fondly on the process:
"The collaboration with Neil (Audio Obscura) was initially focused on one track only. The interaction between our two different sonic worlds and music arsenals immediately worked well. So we continued this artistic conversation working on other tracks, without having a precise idea of where we wanted to go.
The idea of composing an album together emerged gradually. The common decision of making a concept album also matured over time: at some point we realized that we were in outer space! The sounds, the atmospheres, the pauses, the noises: all this clearly referred to the outer space or, at least, to a certain collective imaginary of outer space.
The creative process was very natural. Even though we were very distant geographically (Neil based in England/Norfolk, Alfonso and Michael located in Italy, respectively in Rome and Florence), we found ourselves very close. The track composition process and, more generally, the construction of the album was a real path of exploration and experimentation. We explored our limits and experienced how they could be overcome through this artistic and musical union. Even if the music language of Audio Obscura and Black Sonar are very different, through this album we were able to create an harmonious synchronization mechanism. This sonic journey continued towards an unknown destination. Paradoxically, the more we lost the coordinates, the more we were able to compose and record pieces linked by a common thread.
Perhaps the great complicity between Black Sonar and Audio Obscura was already written in the name of the two distinct music projects. In fact, it is an extraordinary and somehow premonitory coincidence that the meaning of the two terms of Latin origin 'audio' and 'obscura' have many similarities respectively with the words 'sonar' and 'black'."
releases April 29, 2022
Neil Stringfellow (Audio Obscura) (electronics, field recording)
Alfonso Montagnese (Black Sonar) (synthesizers, drum machines, samples, programming, electric piano, sound design)
Michael Facchini (Black Sonar) (electric guitar, acoustic guitar, effects)
Artwork & mastering by Dan Seville (Subexotic)